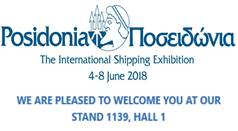 SpectrumLabs and SpectrumNdt
are celebrating 50 years of serving the marine sector and are pleased to invite you to Posidonia 2018 at our Stand 1139, Hall 1, where we will be demonstrating our newly developed SPECTREX, a robotic NDT platform for automated welding inspection and corrosion mapping. SPECTREX is the product of SHIPTEST, a H2020 Fast Track Innovation project, financed by the EU.
We look forward to welcoming you there.