Our main purpose is the satisfaction of the needs and expectations of our customers.
This happens all these years of operation having gained trust and maintaining long-term partnerships.
Spectrumlabs S.A. provides high quality services to customers ensuring the reliability of results, by offering all necessary and possible means for effective work and continuous training of personnel,
constantly communicating and clarifying the quality goals and company policy to all interested parties.
Spectrumlabs S.A. is committed to comply with all applicable anticorruption laws and provide services fairly, ethically and with integrity while personnel is committed to oppose to any bribery.
Moreover, Spectrumlabs S.A. operates strictly under the internal data protection policy.
All sensitive business and personal data are covered by confidential information.
Quality Assurance
Spectrumlabs S.A. is accredited by the Hellenic Accreditation System (ESYD) according to ΕLOT EN ISO/IEC 17025:2017 (Accreditation Certificate No. 65).
It also operates in accordance with the quality procedures set by ISO 9001: 2015 and is certified by the Bureau Veritas certification body.
Our procedures conform to ISO, EN, ASTM, ASME and API specifications.
Our Certificates
SpectrumLabs, quality control laboratories, implements its own ISO 9001:2015 quality management system, registered with BVQI (Bureau Veritas of France)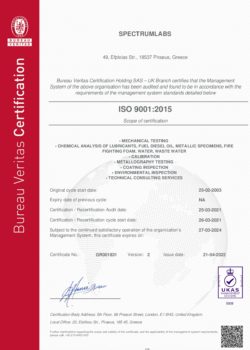 SpectrumLabs, quality control laboratories, is EN ISO/IEC 17025:2017 accredited by ESYD (Hellenic Accreditation System – national member of ILAC) for a wide field of international standard methods of testing on petroleum products, water, welds, metallic and cast materials, steel materials, reinforced plastic composites.
(ISO 17025:2017 accreditation is the highest international recognition standard of laboratory competence).